Dutch superyacht designers & constructors, Feadship, are progressing even further with their goal of producing carbon-neutral superyachts by 2030. The most recent of their builds is the first of their new generation of large yachts, the 84.20 metre 'Obsidian'. This superyacht features hulls optimised at cruising speed instead of top speed, weight control, advancements in electric propulsion, and the ability to run engines on non-fossil diesel fuel called HVO, all aiding the carbon reduction. The yacht's trials were conducted with the generators running on this second-generation biofuel, reducing carbon emissions by 90% compared to yachts operating on fossil fuels.
The brief for the 'Obsidian' was to be more energy efficient and emit less carbon than Feadship's hybrid yacht, 'Savannah', which launched in 2015. Reducing the environmental impact by more than 30% would have been a hard task, but the entire 12-month design period for Obsidian occurred in the midst of a global pandemic. With Covid-19 lockdowns, none of the designers, engineers, or other parties were able to collaborate in person.
Bram Jongepier, Senior Designer at Feadship De Voogt Naval Architects, developed a sustainability index, providing a great deal of guidance on how all of a yacht's components and operations contribute to its carbon profile and environmental impact.
Feadship have addressed the overall environmental impact of its vessels and kept reducing CO2 emissions a top priority. The emissions of nitric oxide and nitrogen dioxide (NOx), particulate matter, hydrocarbons, and the impact of building materials like steel, aluminium, fairing compounds, antifouling, teak, interior finishing, and more, are under scrutiny.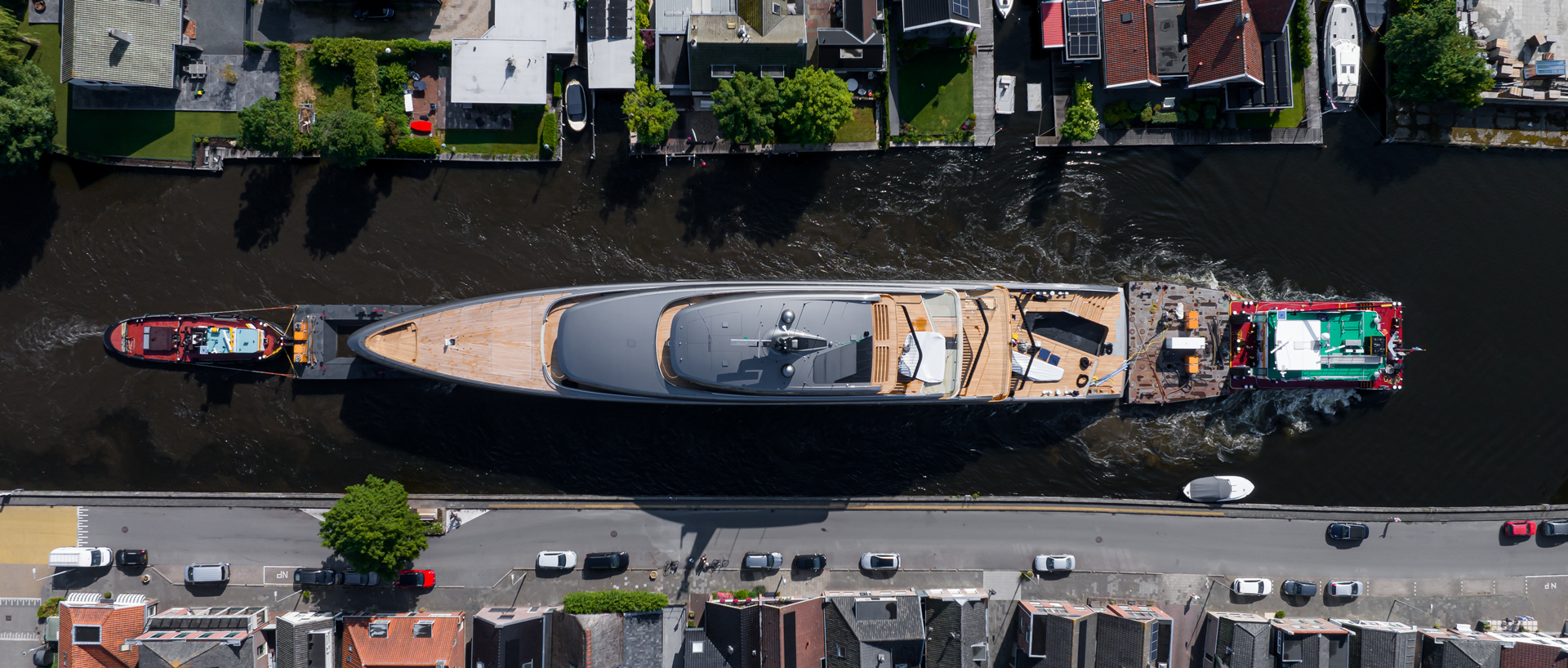 The Yacht Environmental Transparency Index
Bram Jongepier's sustainability index became known as the Yacht Environmental Transparency Index (YETI). It operates on the philosophy that one cannot control what one cannot measure. The algorithms describing the environmental impact of CO2, NOx, particulate matter, shore power, and fuel production have been made freely available by Feadship to the signatories of the Water Revolution Foundation, a yachting industry association dedicated to driving sustainability in the superyacht industry through collaboration and innovation. This led to a Joint Industry Project (JIP) under the flag of the Water Revolution Foundation with twenty major partners in the yachting industry.
The YETI JIP produced a tool that can predict the environmental impact of a standardized operational year in the yacht's lifecycle using data augmented by other partners such as engine manufacturers. Jongepier has estimated that the YETI effectively measures 90% of the total lifecycle of a yacht and each new build helps gather more data. It is estimated that 'Obsidian' will operate with 27% less total environmental impact than a yacht of similar size launched only five years prior, if run on fossil fuel, and 60% less when using HVO fuel.
The first stage of creating 'Obsidian' was to build on the innovation from the 'Savannah'. Using Feadship's Advanced Electrical Drive (FAED) program for diesel-electric hybrid power, 'Obsidian' has 4.5 times more electrical storage capacity than the first hybrid yacht, 'Savannah'. The yacht has no drive shafts and no rudders, preventing added drag caused by these appendages. Propulsion and steering are supplied by a pair of Veth contra-rotating thrusters that deliver both functions. Veth have experience with compact units for ships operating on rivers and as a result was seen as a perfect fit for a yacht specified for a relatively shallow draft. Feadship and Veth have collaborated on computational fluid dynamics (CFD) analysis of the shapes of the drive legs and the propellors to maximize efficiency and minimize vibration, dampening vibration being another key component of the brief.
Powering 'Obsidian' is a 4.5 MWh battery bank that is charged by four generators that can be customised to match variable speed units based on tweaked CatC32 engines with permanent magnet alternators that deliver power as needed. The 'Savannah' operated on 560 volts, while the DC system on 'Obsidian' is a 1,000-volt system due to the yacht being fully powered by electricity. A total of 560 battery modules are housed in a dedicated chilled room on the tank deck, which means the components no longer need to be adjacent. The thrusters are in the best location for steering and water flow, while the generators and their exhaust systems, batteries, and electrical switchboard are located elsewhere for optimal weight distribution and crew access. 'Obsidian' should be able to cruise for 35nm at 10 knots on batteries alone. At anchor, the batteries will provide silent operation for 10 to 15 hours.
Saving Fuel
On it's own, Advanced propulsion would not result in the level of fuel savings required. When analysing 'Obsidian' using YETI, it revealed that around 60% of the energy consumed goes toward powering the onboard lifestyle – the air conditioning, heating, hot water, lighting, cooking, entertainment electronics, pools, and laundry service. Reducing the energy needed to provide for the yacht's onboard load became the target.
Through peak load shaving and reducing HVAC demand through the computerized management of cooling guest and crew zones, major innovations were adapted for the 'Obsidian' to target these areas. Making and using energy creates heat, capturing unwanted or "waste" heat to be used for other purposes became a key focus. Out of every 100kW of energy created by fossil fuel combustion in a typical internal combustion engine, only 35 to 40% is effective mechanical energy, with the rest being heat, usually discarded overboard with the water-cooling system and in the exhaust gasses. Feadship's design and engineering team have begun developing a much more comprehensive system than using generator cooling water to heat a swimming pool, a process that has become standard for many superyacht builders.
Considering that 25% of that onboard energy demand is about making heat, everything that needed heat was identified. The largest consumer was air conditioning. The reason being that to sufficiently dehumidify the surrounding sea air, the HVAC system needs to cool incoming fresh air to about 7 degrees Celsius, but then, to keep the interior from being too cool, heating units must warm the air to the desired temperature for each room.

Further Energy Saving
Conventional installations usually reheat with an electric heating element, but 'Obsidian' utilises waste heat for that purpose. Not only is the waste heat captured from the generators, but also from the AC chillers. This is not just free energy, but it is essentially carbon-free energy due to it reusing incidental heat generated by another function.
"There are so many points of energy savings integrated on this yacht that it is hard to count."
Mark Jansen, Project Manager.
Urged to explore all avenues, Feadship's engineers have introduced an innovative heat pump system to pull heat from various sources, including ambient sea water. Using a heat pump, which transports thermal energy from one place to another, is five times more efficient than simply making heat with a regular electrical heating coil, according to Jongepier.
An onboard computer system helps to choose the appropriate combination of sources. This translates into the following operational modes:
In harbour at normal sea temperatures plugged into shore power: Heat is provided by AC compressor waste heat, augmented by the heat pump if necessary.
At anchor at normal sea temperature, operating on battery power: Heat provided by AC compressor waste heat, augmented by heat pump if necessary.
Sailing, at anchor or in harbour at normal sea temperature with generators in operation: All necessary heat provided by generator waste heat.
Due to the path to carbon-neutral superyachts needs more than one solution, the 'Obsidian' has also thought about new approaches to the hull form. De Voogt's naval architects have created the low, slim hull, optimized at cruising speed using computational fluid dynamics (CFD) with the final form being made into a model tested in a towing tank. Complex engineering for balance and weight reduction includes new applications for carbon fibre. For example, the louvered aft deck overhangs are all carbon fibre attached to the aluminium superstructure and require no support pillars. This weight benefit has also offered new deck layout possibilities.
Feadship, for the first time in many years, is delivering a yacht with a single level engine room, which gave the designers more freedom in creating the interior layout. This also lends more space for guest accommodation and features a total of seven staterooms. According to Jansen, the volume of this 84-metre yacht is typical of that on 100-metre Feadships.
The modern exterior styling and interior design are by the British firm RWD, in collaboration with MONK Design. There are many photogenic spaces such as an asymmetrical atrium staircase leading to a lower deck dining saloon with an entire wall that opens to provide a terrace view just 75 cm above sea level. Toward the stern is an Aqua Lounge where large windows below water level offer a unique view from the gym. The Aqua Lounge can also function as a cinema and a classroom.

From decks to the interior, the design themes are all about surprise. With most of the corridors, many of the rooms, and all of the al fresco living spaces, are not oriented on a fore and aft or athwartships axis. Except for staterooms, none of the interior rooms have any 90-degree angles. Further additions to the unexpected interior elements are the hidden staircase to a study and a sunken lounge on the main deck. The submarine anchors are used to eliminate the need for a mooring deck, allowing 'Obsidian' to feature an exciting interior bow observation lounge with double curved glass floor-to-ceiling windows. Access is via a main deck corridor from the guest accommodation area through the tender garage.
Both of the yacht's primary tenders are electric-powered and custom made by Tenderworks. Four fast charging stations installed by the yard will allow them to be charged in the water or in the tender garage.
After the sea trials, 'Obsidian' resulted in being even more efficient than previously calculated.
If you would like to meet with prolific buyers similar to Feadship, register now for MTB Superyachts 2024.