Heesen announces the sale of a highly customisable 50 metre Steel hybrid yacht for delivery in 2024.
Intent on minimising the vessel's environmental impact, the owner has opted for a hybrid propulsion system that embraces the best of the 21st century technology. Heesen's hybrid system ensures that it will be cleaner, quieter and more efficient than comparable conventional craft.
The heart of the hybrid system is the yachts twin MTU 8V4000 M63 (IMO Tier III) main engines, each coupled to a water-cooled, 135kW Danfoss electric motor on the same propeller shaft. This configuration offers versatility of operations, flexible power management and redundancy, thanks to its three cruising modes:
Silent Mode for low speeds
The main engines are shut down and the E-motors drive the propeller shafts. This mode is beautifully silent and free from vibration as the generators are fully insulated and boxed.
Economic Mode with power-take-off (PTO)
The main engines drive the prop shafts to propel the yacht. The main generators are shut down, while the E-motors use the turning shafts to generate electrical power in PTO, feeding the yachts systems and stabilizers. This mode is ideal on long passages.
Cruising Mode – without PTO
The main engines drive the prop shafts to propel the yacht. The main generators provide the necessary electrical power for the yacht's hotel load and stabilizers.
Key features:
Top speed: 15kn
Range: 3800 nm
Cruise Speed: 12kn
Beam: 9m
Project Oslo24 will feature exterior designs by Clifford Denn. Luca Dini Design & Architecture have been briefed to create a refined but relaxed décor.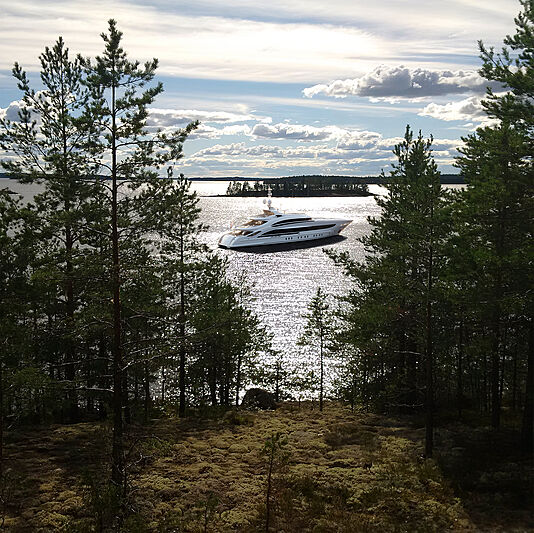 Image credit: Heesen Yachts
The master suite is located on the main desk forward, while there is also a full beam suite and office on the lower desk, where the remaining guest cabins can be found. Other features include a glass-bottomed pool with waterjets over the beach club, with its expansive wellness suite.
"Oslo24 is a very exciting project and we are carrying it out with enthusiasm and confidence as we know both the client and the shipyard well." Says Stefan Zucker of Zucker and Partner, owner's representative and building surveyor.
Credit: Heesen Yachts