The InfinityMAX hybrid bulk carrier design concept has been revealed by tanker shipping company Stena Bulk for zero-carbon and sustainable transportation.
The InfinityMAX concept is designed to carry both dry and wet cargoes in modular compartments. A few new core principles have been included in the design.
In terms of the energy use, each of the InfinityMAX's modular cargo units will be self-sufficient as wind turbines and solar panels will be used to generate the electricity needed. In addition, congestions and call times will be reduced as the modular units can be dropped off outside of ports and picked up by tugs.
Stena Bulk's President & CEO, Erik Hånell said:
"We are extremely proud to unveil our InfinityMAX concept vessel design, which we believe pushes the boundaries for the future of our industry. What we are proposing here is innovative, provocative and would radically reshape the way we think about bulk trade, rationalising two segments with complimentary expertise into one shipping segment that is ready for the challenges of the future.

"The application of advanced technologies – including hydrogen fuel and other efficiency measures – means that this is a vessel concept that proves our core philosophy that innovation is key to commercial success, given the challenges that we all face. We will continue to work closely with our innovation partners, leaving no stone unturned to ensure that the right advances happen to make the InfinityMAX concept into a reality."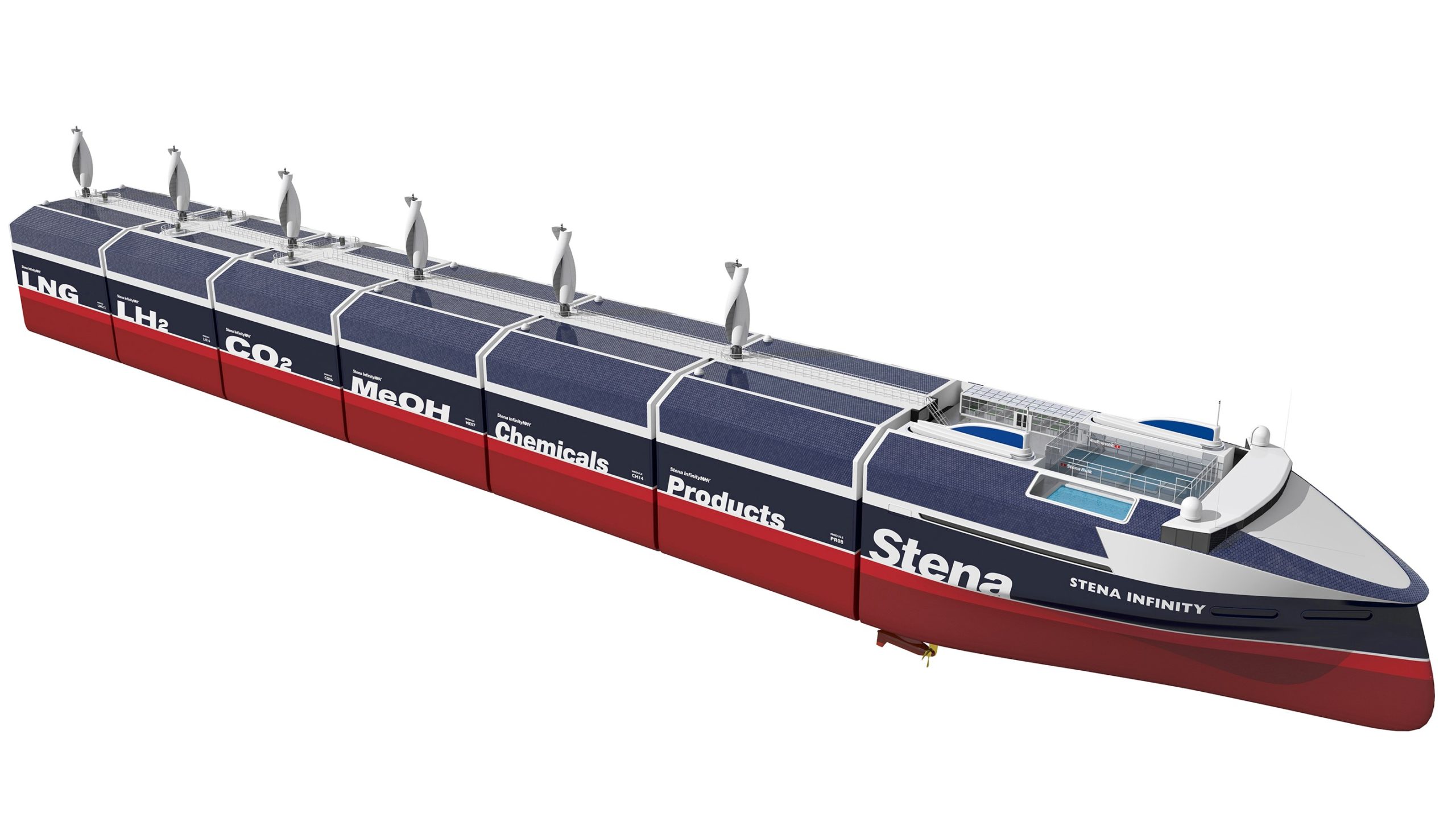 For the InfinityMAX concept, hydrogen fuel will be used and further energy will be generated by wind turbines. Collapsible wing sails and a shark skin hull have also been incorporated in the concept design as to improve efficiency.
The InfinityMAX concept is designed to be semi-autonomous and meet the future demand of efficient operations without compromising safety. However, the vessels will still be crewed for safety and flexibility reasons.
InfinityMAX will also enable crew members to focus more on observation and interaction with operators ashore, and therefore enhance their wellbeing.
According to Stena Bulk, the InfinityMAX will help to improve fleet utilisation and increase the potential for more standardised supply chains.
The company expects that an InfinityMAX vessel will start operating between 2030 and 2035.
Credit: Stena Bulk