ISA Yachts has announced a new Ayrton superyacht line that takes inspiration from the automotive world.
The strong reference to the world of Formula 1 is intrinsic to its name and the design is penned by Enrico Gobbi of Team for Design, who also developed the three models of 50, 63 and 70 metres that make up the line. Naval engineering is by Palumbo Superyachts.
The first model to be introduced is the 63m ISA Ayrton with a concept inspired not only by sporty details from the automotive world combined with large interior volumes, but also by natural shapes. This trait is clearly identifiable from the profile which highlights, at the bow, the five transverse windows of the full-beam owner cabin, recalling the fish gills.
The first, amidships, is highlighted by these large opening windows on the fly and upper deck, while on the right side of the main deck we find a drop-down balcony; the second, is generated by the alignment of the aft decks where, to eliminate the "floating castle" effect, streamlined decks have been created to infuse movement, also thanks to its airplane wing effect recalling the world of jet design/ aeronautics, accentuated by their grey colour and by a shape like nails. Emphasis was given to the chromatic study of all the stern details in metallic grey and by an integrated lighting system that highlights these forms.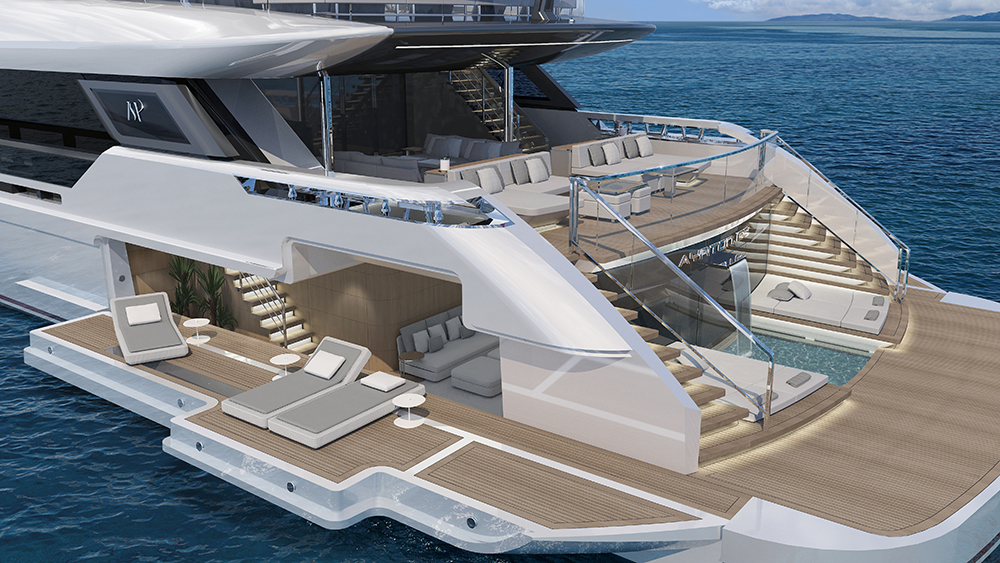 The sensational beach club, a project within the project, boasts a window in place of the traditional stern hatch to create an unparalleled scenic effect. The window includes a waterfall plunging into the pool and acting as a liaising element with the indoor jacuzzi. All on one level which, thanks to the two side openings, transforms this beach club into the largest on boats of this size. In fact, once the tender has been launched, its dedicated area becomes an integral part of the beach club. The last exclusive detail that completes this area is the access to the main deck which can be through its side stairs (as typical of ISA Yachts design) as well as through a convenient indoor staircase placed on the port side.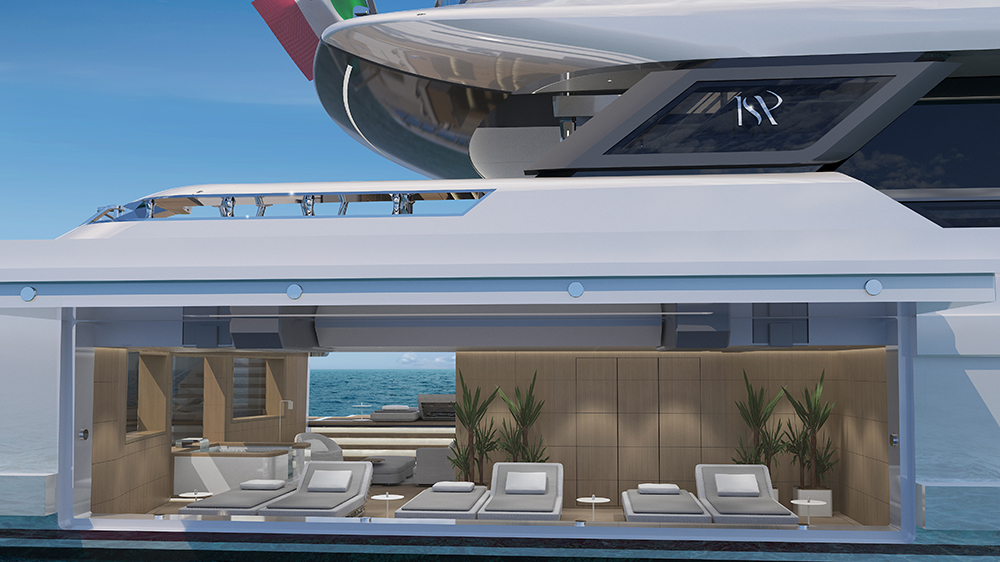 The fly-deck is devoted to wellness and, in addition to the panoramic gym, includes also a jacuzzi in the bow.
The interior will have a refined feel with an accent on the internal/ external connection given by the large opening floor-to-ceiling windows present on each deck. ISA Ayrton 63m can accommodate 12 guests in 4 double cabins located on the lower deck, a VIP cabin and the full-beam owner suite on the main deck.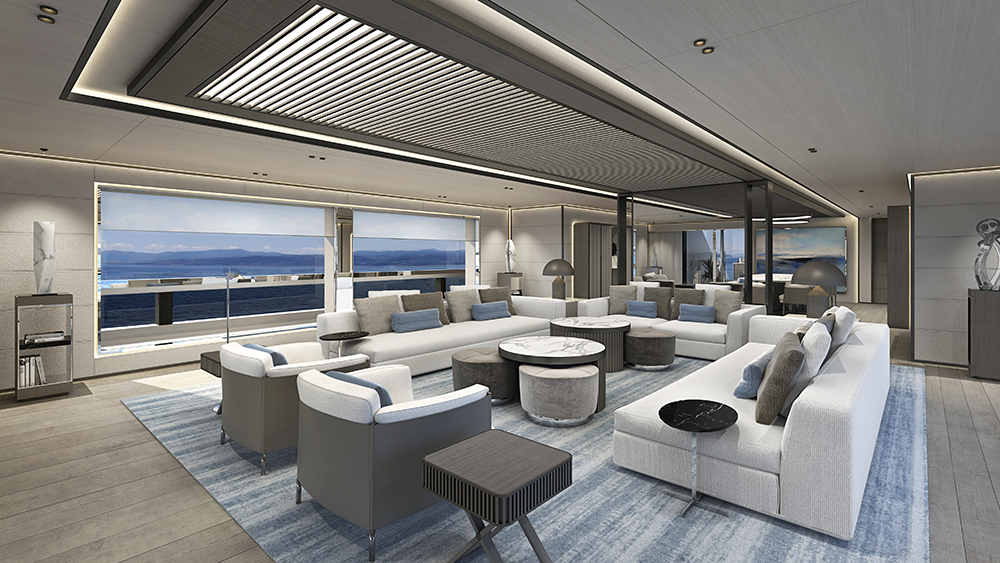 ISA Ayrton 63m will have a steel hull and aluminium superstructure with a tonnage of approximately 1,200 GT. Thanks to two 1800hp Caterpillar 3512C engines, this displacement superyacht will be able to reach a maximum speed of 17.5 knots and a cruising speed of 15 knots with a range of more than 5,000 nautical miles at 12 knots.
Credit: ISA Yachts