Van der Valk, a boutique shipyard in the Netherlands, is setting a new standard in the superyacht industry with their personalised approach.
They've secured orders for two bespoke projects, one 34 meters and the other 35 meters long. Tri-deck yachts are built on the successful Lady Lene hull design, with unique waterline customization for each client.
Two projects, 111.11 and Samba, will have the same naval architecture and high-quality finish. However, their exteriors will differ as they are designed by Guido de Groot. De Groot will oversee the interior design of Samba, while Carla Guilhem is in charge of 111.11's interior design. The clients for Project Samba were introduced to Van der Valk by Will Noftsinger from Denison Yachting.
Both yachts will be built for highly experienced owners who knew exactly what they were looking for – Van der Valk is one of the very few yards offering such a comprehensive choice in this size range. Project 111.11 will be a full displacement vessel with twin Volvo Penta 750 hp commercial continuous duty engines and a top speed of 14.4 knots. In contrast, Project Samba's fast displacement hull and twin MAN 1450 hp diesels will ensure top speeds around the 17-knot mark.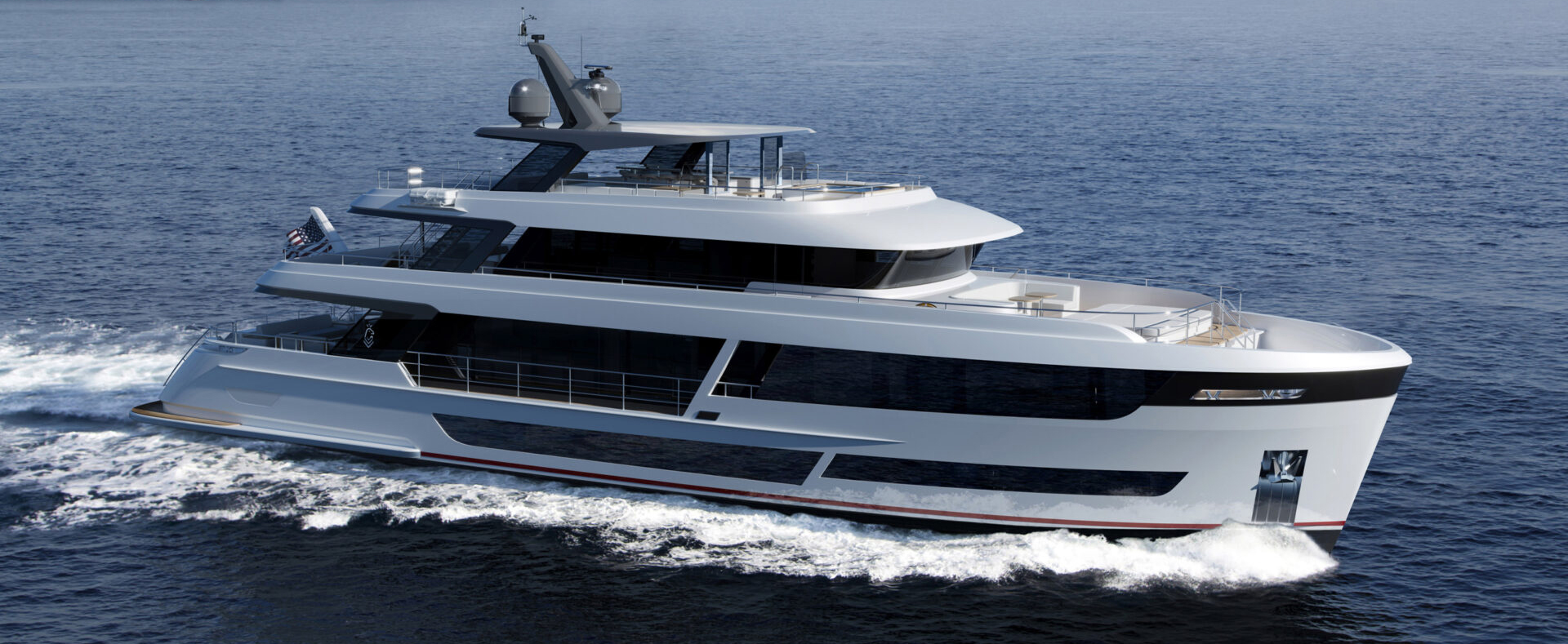 "The proven hull design and naval architecture platform allows us to offer the choice between a full or fast displacement vessel, Using the engineering packages and part of the cutting files generates significant cost synergies yet allows for an entirely different look and feel. It's a highly efficient way of building that provides clients with exceptional freedom to customise their yacht above the waterline. Everything you see on the renderings for Project 111.11 and Project Samba has been chosen by the owners as they implement their own style and make a statement of personal taste."
Yoeri Bijker, Head of sales at Van der Valk.
Project 111.11 showcases distinct exterior features such as a diagonal arch that rises from the main deck to the hard top in a straight line, and spacious windows. Meanwhile, Project Samba prioritizes outdoor leisure spaces, including a larger swimming platform.
There are many differences between these exceptional motoryachts, which will become evident once the construction begins. We have included four examples of specific requests being met for the owners that showcase the length which Van der Valk is prepared to meet its full-custom promise.
Project 111.11
1) The sky lounge has an asymmetrical semi-full-beam design that keeps its volume under 300 GT, allowing it to meet full commercial charter class standards without needing a rescue tender or davit. Additionally, this design provides a convenient sidewalk from the bridge to the aft deck, eliminating the need for crew members to pass through the lounge.
2) As the design of Project 111.11 leans towards an explorer vessel, great importance is being placed on storage and waste management facilities. Every available space under the sunbeds and sofas will be utilized.
3) The spacious master suite will feature a full beam design and a generously sized walk-in wardrobe located towards the back. The wardrobe includes a convenient chute that leads directly to the laundry station on the lower deck.
4) The lower deck has a large washer/drier capacity and a walk through from the laundry into the guest corridor, requiring a watertight bulkhead door for damage stability reasons.

Project Samba
1) A large aft deck that includes a relaxation lounge zone featuring a aft-facing sofa and a formal dining table for alfresco lunches and dinners.
2) The lower deck will feature an impressive beach club with a chill-out area, sauna, day head and lots of washer/drier capacity for towels. Extra space will become available in the garage once the William Sportjet 395 tender is launched.
3) The owners will frequently use the galley, which offers ample workspace and a cooking island. To prevent cooking odours from spreading throughout the vessel, air extractors will be installed in the ceiling near both entrances to the galley.
4) A central staircase with a single large column moving through the yacht from lower to bridge deck will serve as a piece of art in its own right as well as optimising freedom of movement.

Enjoying the process
The level of personalised attention given to every detail on both Project 111.11 and Project Samba is exceptional, especially considering the size of these yachts. "Both owners have been very involved in the development of the design and specs," concludes Bijker. "Our yard is attracting clients who love to immerse themselves in creating something special and are not prepared to settle for an off-the-shelf product. It's a lifestyle choice and they enjoy the process of developing their perfect yacht as much as they do the ultimate end result."
News sourced from Van der Valk Shipyard