Evo Yachts' exclusive new flagship, the 24-metre yacht initially known as the Velar 78 concept officially named Evo V8.
For Blu Emme Yachts, the shipyard behind the fortunate Evo Yachts brand, the realisation of this model and a new product line represents a major watershed. With a design penned by Valerio Rivellini, Evo V8 springs from the desire to find the point of intersection between suggestions from the two worlds of sailing and motor yachts, with the aim of taking the best of both and revolutionising the cruising experience.
The project is an invitation to see life on board as a time for socialising and relaxation, even when cruising under power at high speed.
As the designer explains, "motor yacht lovers begin their holiday when they reach their destination, either at anchor off the coast or in port, whereas sailing yacht owners start their holiday right away, as soon as they step on board. Evo V8 combines the speed of a motor yacht with the comfort and relaxation of sailing".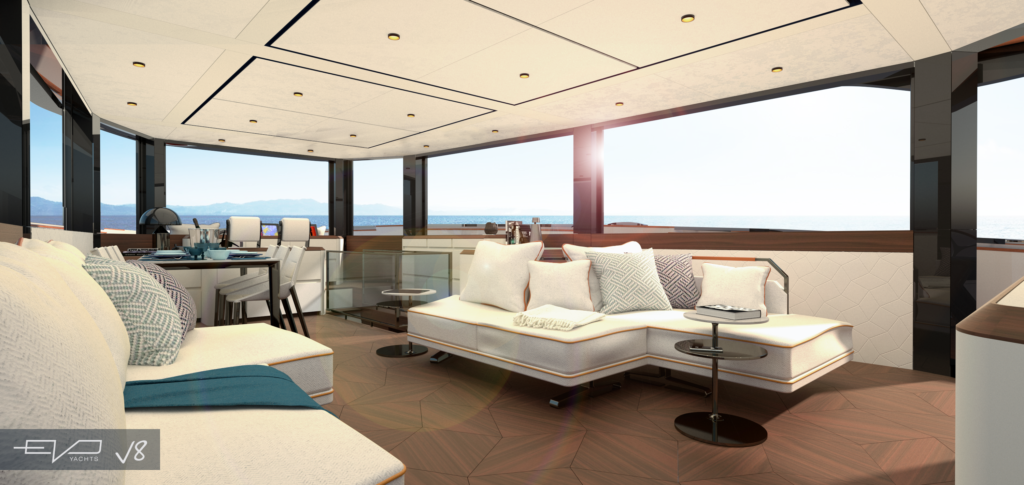 There are a remarkable four helm stations – the first station on the Main Deck forward of the main salon and the second on the Roof Top, fitted with a retractable steering console, are joined by two yacht wheels on the port and starboard sides of the Main Deck. A clear reference to the world of sailing, they are an invitation to enjoy cruising in close contact with the water, as well as being very practical when manoeuvring. The space between the two helm wheels is completely free, but the side seats and the couches around them invite socialisation between the driver and their guests, something that isn't usually possible on a motor yacht.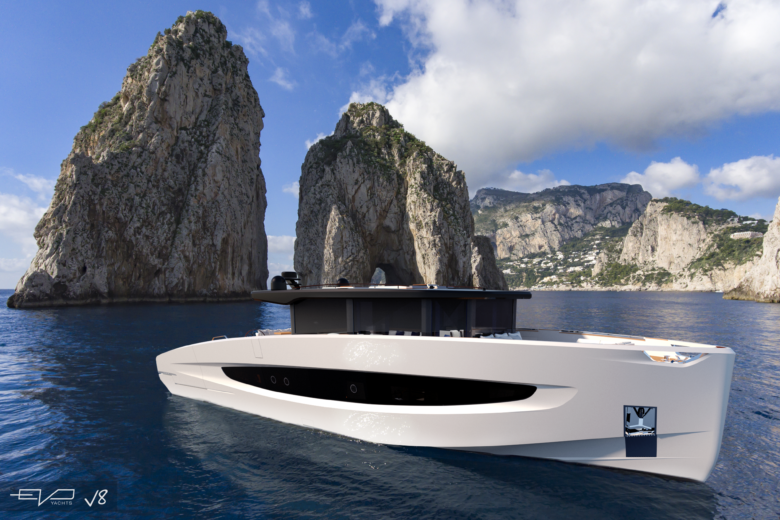 The particularly innovative layout of Evo V8, which sets it apart from other boats on the market in the same category, is even clearer to see in the beach area, which can be provided with direct access from the master stateroom at the owner's request.
The beach area is an open space on the water, just 70 cm above the waterline, designed to be able to enjoy seamless contact with nature and an unbroken 180-degree panoramic view thanks to hull sides that open, eliminating all visual barriers and conveying the sensation of being at one with the surrounding environment.
Evo V8 will be launched in the coming months and handed over to the owner.
Credit: Evo Yachts