The $477.5 million facility provides increased passenger capacity for LAX and future connection to the Automated People Mover train system
Los Angeles Mayor Eric Garcetti celebrated the opening of the new extension of Terminal 1 at Los Angeles International Airport (LAX), a $477.5 million facility that added increased capacity with new passenger check-in lobby, security screening, baggage claims and future connection to the Automated People Mover (APM) train system.
"LAX is in the midst of a once-in-a-generation transformation that will help redefine 21st century travel, restart our economy, and reshape how Los Angeles greets the world," said Mayor Garcetti. "When it comes to investments and innovation, our airport is in a league of its own — and with the introduction of Terminal 1.5, LAX is completing another leg in its journey toward a stronger future."
The addition to Terminal 1, which was described as Terminal 1.5 during construction, includes the first of seven Terminal Vertical Cores to open at LAX. In the Terminal 1 core, elevators and escalators will provide passengers access to a pedestrian bridge that will connect to the future APM train system's Center Central Terminal Area (CTA) station.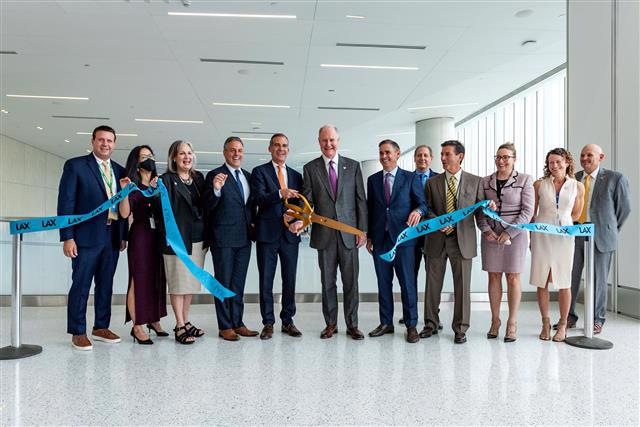 The building also includes two new baggage carousels on the Lower/Arrivals Level, additional ticket counters on the Upper/Departures Level and a six-lane Transportation Security Administration (TSA) checkpoint on the Concourse Level.
The 283,000-square-foot extension of Terminal 1 will connect to Terminal 2 behind security when the terminal connector is completed this fall, allowing passengers to move between the two buildings without having to be re-screened and providing another access point for greater flexibility.
"The new portion of Terminal 1 works together with the recent renovations to create a cohesive experience for passengers, and also meets LAWA's responsibility to be a sustainability leader in the aviation industry," said Sean Burton, President, Los Angeles Board of Airport Commissioners. "With environmentally conscious features that helped earn LEED Silver certification from the U.S. Green Building Council, this facility showcases LAWA's vision of boldly moving to zero."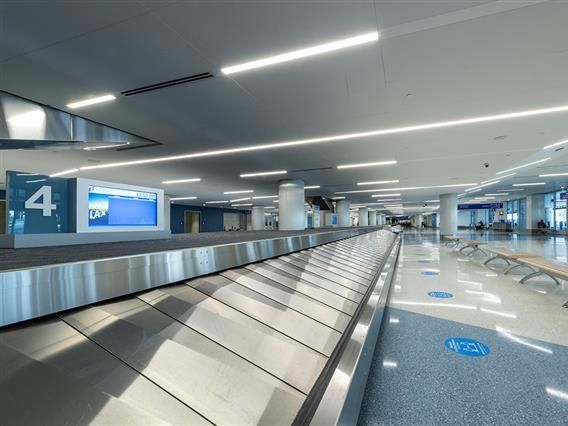 Southwest Airlines, which has 13 gates in Terminal 1, gained a third baggage carousel and three additional ticket counters in the new portion of the building, as well as space on the fourth floor for offices. The airline's crew base is also housed in the new facility. Southwest passengers can use the new extension to go through security screening before heading to their gate.
Limited operations began at the extension to Terminal 1 on May 1, and Viva Aerobus, which relocated from Terminal 6, was the first airline to use the new addition for passenger check-in and processing. Sun Country, Allegiant and Frontier, which relocated from Terminal 5, are also now operating out of the extension.
Guests flying these four airlines check in at Terminal 1 before taking a short ride via a dedicated airfield shuttle to the West Gates at Tom Bradley. Guests arriving on Viva Aerobus flights pick up their luggage and go through customs in the Federal Inspection Station at Tom Bradley International Terminal, while passengers arriving on Sun Country, Allegiant and Frontier take the shuttle to Terminal 1, where luggage is returned on Carousel 4.
The new portion of the ticketing lobby includes self-service check-in kiosks with biometric and touch-free capabilities from Materna IPS (Intelligent Passenger Solutions). Frontier customers are already using the kiosks, and LAWA is working with other airlines to expand their use in the future.
Among the green building features of the facility:
The building will use a new recycled water system that is being installed around the airport campus, which will work in concert with low-flow faucets and flush valves that will result in a dramatic reduction in the amount of potable water used by the building.
A new stormwater collection and management system collects all rainwater runoff, which is filtered and reclaimed at an off-site treatment facility. This system ensures that this rainwater will be treated and reused as opposed to being directly drained into the Pacific Ocean.
An advanced lighting control system that is programed to automatically increase or decrease the amount of artificial light within the building depending on both the time of day and number of occupants within the building.
Advanced, energy efficient air handling units to ensure occupant comfort is maintained within the building by accurately monitoring and regulating temperature, humidity and air quality. The units use fan wall arrays and can function in full 100-percent outside air mode to take advantage of LAX's cool coastal climate. In addition to Merv14 filtration, the new air handlers use both bi-polar ionization and ultra-violet germicidal irradiation as a means to provide the healthiest indoor air quality possible.
Credit: Los Angeles International Airport