XOCEAN partnered with IIC Technologies as to undertake a pioneering survey work for the Canadian Hydrographic Service (CHS) at Lake Superior by using tow of XOCEAN's Uncrewed Surface Vessels (USVs). These USVs were remotely controlled via satellite.
The project marks the first time that USV technology was used to gather bathymetry data in inland waters in Canada.
XOCEAN's CEO, James Ives commented on the project: "Our USV platform has demonstrated itself to be a safe, reliable and carbon neutral solution for the collection of ocean data. We are delighted to be working with IIC Technologies on this ground-breaking project delivering data for the Canadian Hydrographic Service."
IIC Technologies was contracted by CHS as to acquire a high-resolution seabed survey in water depths up to 200m, of over 800km2 off Thunder Bay, Ontario, using USV technology. IIC partnered with XOCEAN, who provided and remotely operated their XO-450 USVs from XOCEAN's Control Centres in the UK and Ireland, while IIC provided the Party Chief, shore-based data processing, and logistical support.
These uncrewed vessels are around the size of an average car (4.5 metres) and half the weight (750kg) and are remotely monitored and controlled 24/7 via a satellite connection by a team that can be located anywhere in the world.
Throughout the mission, a team of IIC Technologies Hydrographers and Data Processors and XOCEAN USV Pilots and Surveyors remotely monitored the USVs to ensure safe operation of the vessels and quality of data acquisition. The success of this project demonstrates the highly flexible and collaborative nature of this new technology, enabling industry experts to have direct access to real time data, from any location.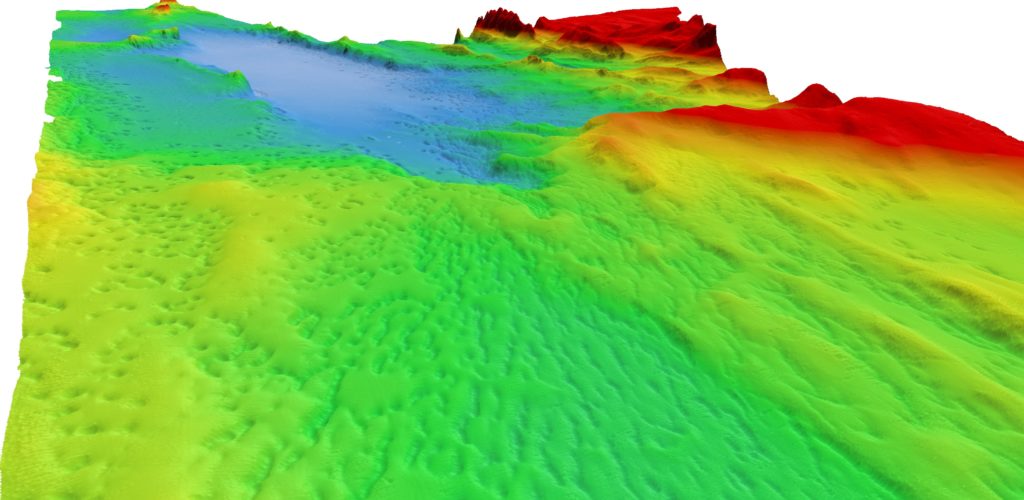 Sample bathymetry data captured during the survey – Image Credit: XOCEAN
Dave Bazowsky, Engineering Project Supervisor said: "CHS wanted to evaluate the operational readiness of a commercial off-the-shelf autonomous technology in a real working environment. The area chosen in northern Lake Superior lies within a Secondary Low Impact Shipping Corridor and the world's largest freshwater National Marine Conservation Area. It was also selected to simulate an analogous working environment one may expect in the Canadian Arctic. The IHO S-44 Order 1A data collected in this area will be used to update navigational publications used to facilitate safe and efficient navigation and will also contribute to the Blue Economy in general."
John Conyon, Director of Hydrographic Operations said: "The cooperation and flexibility shown by XOCEAN and CHS were key to successfully performing this project in very challenging late fall conditions in northern Lake Superior. The XOCEAN ASV's performed well through storms and sea ice, providing a stable platform that enabled the acquisition of high-quality bathymetric data that meets CHS stringent requirements"
Click here to read more about the creation of combined hydrography and oceanography portfolio.
Credit: XOCEAN